Miami Food Trucks
Cool and hip restaurants on wheels


These Miami food trucks are serving great food at great prices in the most unexpected places.
Recently, many of these Miami food trucks showed up at the Arts Park at Young Circle in Hollywood for the Food Truck Invasion.



Food trucks have been around for quite a while, very popular in larger metropolitan cities like Los Angeles and New York, and were initially known to cater to construction site workers who needed quick, filling food that wasn't too expensive.
For the past few years, though, some food trucks have gone the gourmet route and more than a few of them are mobile extensions of brick-and-mortar restaurants, spreading the word of their good food but in smaller portions. Twitter, Facebook or text message alerts informed of their locations for the day around town and food truck groupies would follow with enthusiasm.
Here are the Miami food trucks who made it to town. The city of Hollywood hopes to make this a permanent and ongoing event. Meaning, the more people come regularly, the Food Truck Invasion event will have a better chance of staying.



Slow Food Truck - American cuisine, using seasonal and local ingredients. The blue chicken sandwich sounds fantastic. slowfoodtruck.com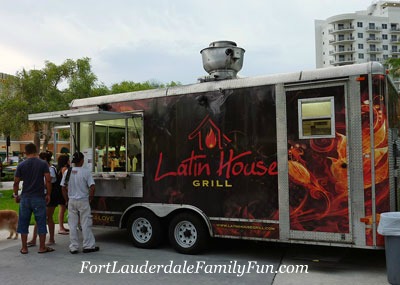 Latin House Grill - Tacos and flatton flatbreads (soft or puffy) filled with choice of meats, chimiburritos, mad love burgers, chuchi rice bowls and there's more. It's all so irresistible. latinhousegrill.com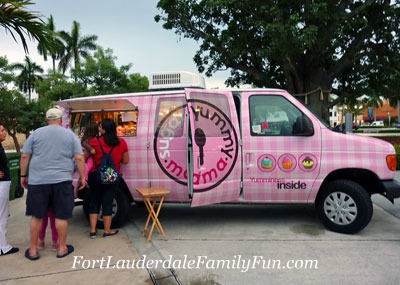 Sugar Yummy Mama - Gourmet treats for the sweet tooth. They have cake balls, cake pops and cupcakes. They also have a few organic versions. sugaryummymama.com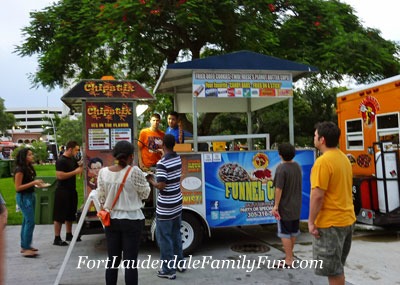 Chipstix and Funnel Cakes - Potatoes are spiral cut, threaded through a stick then deep fried. Sort of like potato chips on a stick. They also have funnel cakes and your choice of candy bar fried on a stick.




Grill Master Café - Cuban-style sandwiches and burgers, mojito wraps and hotdogs. The pincho kabob was good but waited way too long (about half an hour) to get it done. grillmastercafe.com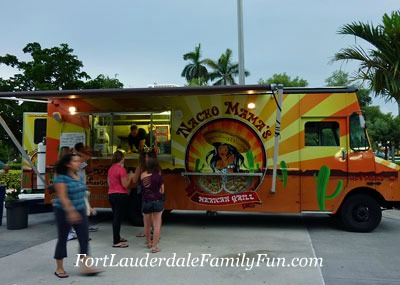 Nacho Mama's - Tacos and tortillas, nachos with everything on it, buffalo queso sticks and other Mexican favorites. nachomamasgrill.com




CheeseMe - Gourmet grilled cheese sandwiches with cheese choices like vintage cheddar or compania buffalo moz. They also have chili and sliders. cheeseme.com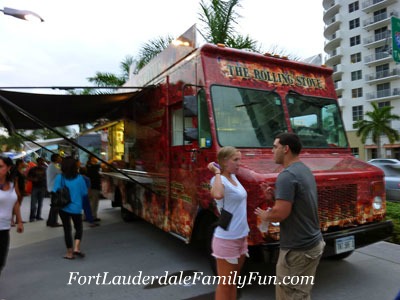 The Rolling Stove - They have steak burgers, jerk chicken wings and sloppy jerks. They also offer cheddar fries and cabbage slaw. therollingstove.com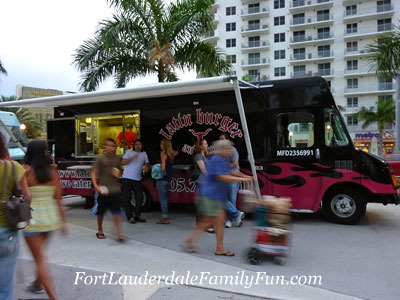 Latin Burger - Their signature Latin macho burger will turn you into a groupie for sure. They also have chicken molé tacos and spicy sauces. latinburger.com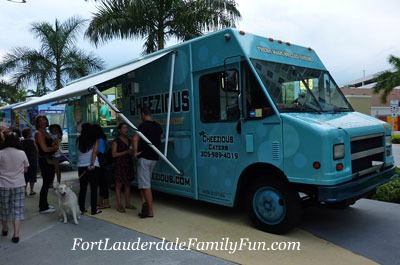 Ms. Cheezious - Grilled cheese sandwiches with an attitude! The menu also includes tomato soup and chili cheese fries. mscheezious.com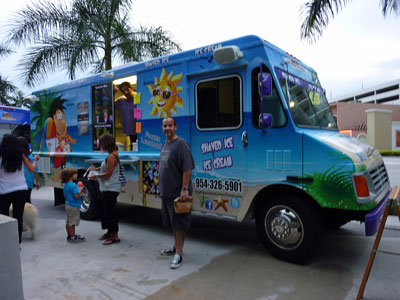 Big Kahuna - Offers shaved ice topped with a different flavored syrups, frozen yogurt, soft serve and other sweet, frozen treats. BigKahunaIceCreamTruck.com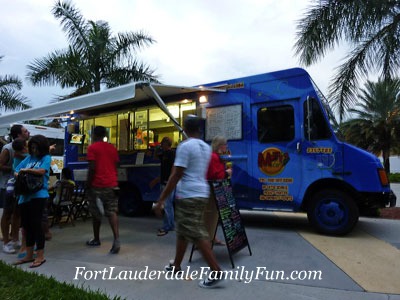 Moty's Grill - Quite possibly our favorite. Mediterranean street food that includes, shwarma, hummus, kibbeh, and borrekas. All kosher meats. motysgrill.com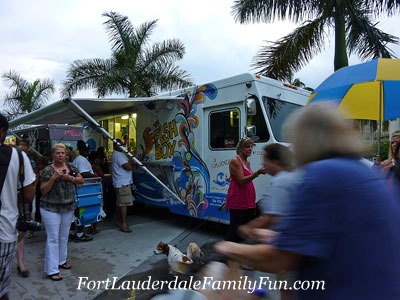 The Fish Box - Fish fry à la Cuban. Fried fish sandwiches, shrimp sandwiches, yummy fritters and more. lacamaronera.com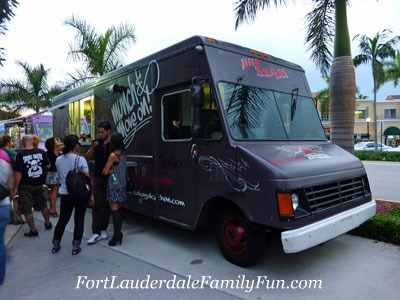 Dim Ssam A Go Go - Korean snack food. My initial choice. Fantasized about the bulgogi burger but realized cash only payments that night. Next time. sakayakitchen.com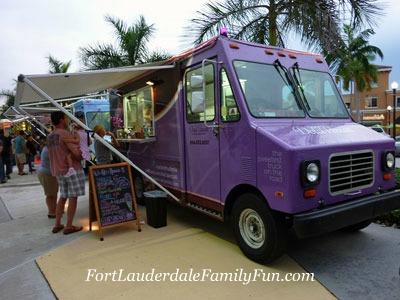 Dolci Peccati - Already tasted their exquisite gelato at the Fairchild Gardens the day before. Smooth and creamy with just the right amount of sweetness. dolcipeccatigelato.com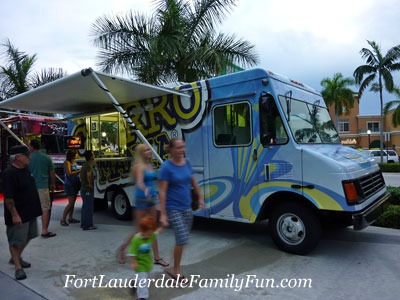 Churro Mania - Warm and crunchy outside, soft and chewy inside. A long, deep fried dough stick sprinkled with sugar and cinnamon or your choice of sweet sauces. Already a well-known treat for shoppers at the Sawgrass Mills Mall. mychurromania.com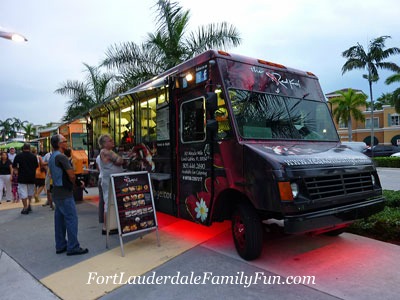 Red Koi - Another Asian favorite. Sushi and spring rolls. Fried rice and pad thai. Fast and friendly service. redkoilounge.com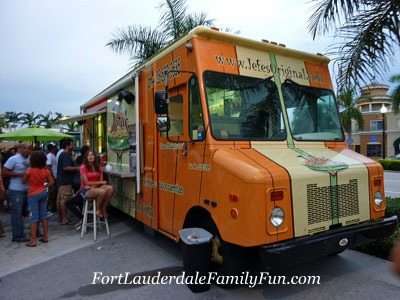 Jefé's Original Fish Taco and Burgers - Ensanada, Baha California-style tacos and true-blue American hamburgers. We found our new comfort food. Definitely a winning combination. jefesoriginal.com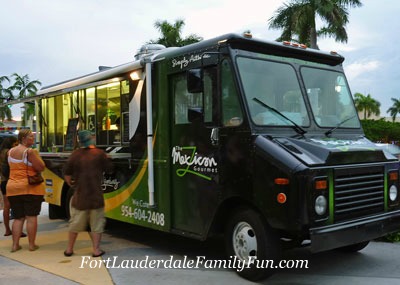 MexZican Gourmet - We sampled their tacos at the Fairchild Gardens the day before. Mouthwatering soft shell tacos with traditional fillings, quesadillas and Mexican tortas sub sandwiches. themexzicangourmet.com



From Miami Food Trucks, go back to Food Truck Invasion page
Go back to Events page
Go back to Homepage