Las Olas Events
There are plenty of Las Olas events that keep the boulevard lively and attract a good crowd of people. The great thing about going to one of the Las Olas events is that you don't have to go very far to get everything you need.
Once at the event, you can browse some shops that will most likely be open to welcome customers. You can stop for a meal at any of the restaurants or sit down and relax, have a cup of coffee or a drink or two. You're even close enough to the beach to squeeze some time to feel the sand between your toes.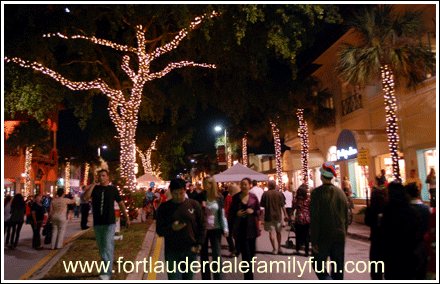 Here are a few of the more popular events that attract lots of people, and like they say, the more the merrier!


Las Olas Art Fair – This has become such a popular event for art sellers, buyers and collectors. In fact, it's so popular that it doesn't just happen once but twice a year. The first event is in January and the second in October. The main part of the boulevard is closed to traffic during the festival giving the pedestrians free reign of the street. Walk amongst the artists stalls and see what's being offered while listening to the various musicians play. You just may come home with a piece that you absolutely love. Free to attend.


Las Olas Wine and Food Festival - Definitely geared more for adults with a focus on good wine, good food, good music and a party atmosphere. But to get into this popular street party, you do need to pay $75 per person to enjoy the good times.


Christmas On Las Olas - One of my favorite events in Fort Lauderdale, this is a street party for everyone! Part of the Winterfest celebrations that starts in November, Christmas on Las Olas features different stages with school choirs singing holiday carols, bands and street performers. The boulevard is all dressed up in its holiday best and the trees strung with pretty, white lights. Activities have included an "ice" skating rink, snow sledding, outdoor movies, and fake snow! Santa even attends to hear little kids' wish lists and pose for photos.

Have you been to a Las Olas event? Tell us about it...
Have you been to these events or to one of the other events on Las Olas Boulevard in Fort Lauderdale, Florida? What did you think of them? Tell us your story here!
Return From Las Olas Events To Las Olas Boulevard

Return From Las Olas Events To Ft Lauderdale Attractions