We had a great time!
by Maria
(Ft. Lauderdale, FL)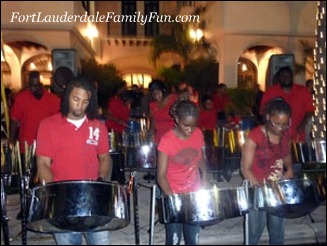 Steel drummers perform at Christmas on Las Olas
We went to the Christmas in Las Olas this year and had a great time! The weather was warm and balmy this year – perfect south Florida weather. The first thing we did was to listen to the school choirs who provide entertainment each year. There was a hip hop dance group that also performed on another stage.


But maybe the performance that made the best impression and got the loudest applauds this year was the steel drum band that played right on the street. There were at least 15 drummers, young and adult, playing holiday tunes and favorites with this classic Caribbean instrument. There was a huge crowd in front of them and you can see people swaying, tapping their feet or even dancing!
There were lots of booths this year, mostly promoting businesses. It seemed a lot more organized. They even put ATMs right in the middle of the street in at least a couple of locations. No need to look for a bank to withdraw cash, you couldn't miss the glowing sign!
No ice skating this year but the ski simulator was ever s popular plus there was the ice slide using real snow. The slide is good for younger kids. I don't think they allow anyone over the age of 8 on it except maybe parents with really small children can ride with them.
The atmosphere was fantastic. There were so many people of all ages. Lots of people also brought their dogs, too (on leashes, of course). Lots of families leave earlier because Christmas on Las Olas usually falls on a school night, and this is probably a sad thing. But all good things must come to an end.
As the families leave, lots of adults will probably stay and play until the very end of the party. All the restaurants and bars are open and all of them are spilling with people, mostly with drinks in their hands.
We left relatively early at around 9 pm and the street was still crowded, and it didn't look like they were anywhere near ready to leave. We had a lot of fun. Will definitely do this again!