Wannado City
Where Kidizens Rule!

Sadly, one of the best area attractions for kids closed its doors permanently on January 12, 2011. The creative atmosphere and sounds of Wanadoo City are now gone but this web page will remain to remind us of all the fun we had here.
Wannado City's slogan goes, "Where kids can do what they wanna do…" Yes, this attraction really is made for "kid-kids", so stand back adults (or wannabe kids) because your role once you get them in here is to let the children be, make sure they get fed something while in between jobs (jobs?), and bring them back down to earth on the way back home or to the hotel.

There's an old Doris Day tune that goes"
"When I was just a little girl,
I asked my mother,
'What will I be?
Will I be pretty?
Will I be rich?
This what she said to me…'"


Well Doris, in the 21st century, there are way more career options now than was ever imagined back then. And thankfully so! These days, boys and girls can dream about becoming basically anything they want to be.


But there are the realities of work, right? And how do we get our kids to think about the big bad world of work without scaring them off for the rest of their lives? How do you make that actually fun?

Wannado City attempts to answer these questions. Located at the Sawgrass Mills Mall close to the Colonnades Outlet section, it is a very popular indoor theme park just for kids from toddler to pre-teen.

The theme of Wannado City is work.

Work? How that can be fun, some of you might ask. Well, I think one of the ways Wannado City does that is to get us adults ever so gently out of the way.

At the entrance, parents and children are given WannaFinder bracelets. These are radio-frequency identification or RFID security bracelets that allow your whole group to track each other's whereabouts by scanning the bracelets on a WannaFinder kiosk. And this is very useful because once the kids are inside, the city is theirs.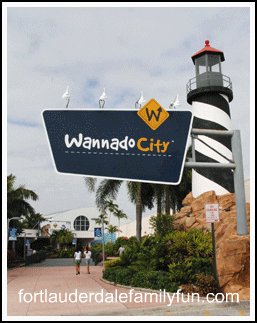 First stop is the bank to collect some Wongas and open an account. A Wonga is Wannado City's money that kids can earn after doing a job. They can also spend their Wongas to buy an activity like cookie making or rock climbing.

From there kids get to pick what job they want to do. Hmmm…is today a good day to be a fireman or a reporter? Maybe a stage actor? What about a surgeon?

For many of the jobs, kids go to a section where they are supervised by WannaHelpers. They give the kids real basic information about the job, instructions on what they're supposed to do and then they do it.

For all of the job activities, parents and other adults stay outside. Yes, you read that right. That means no interference from us domineering parents! We get to see the kids perform their show or news broadcast, track down criminals, model down the runway and go grocery shopping through large store display-sized windows or as part of an audience.

Most of the activities last about 20 minutes or so, giving kids enough time to explore other job options.

So what do grownups do at Wannado City? If you have very young kids it's probably best to stay close to them as much as possible. You can watch them doing the job activities through the large windows and wait. This also gives you a chance to catch that perfect photo opportunity while they are engrossed doing the activity.

If you're comfortable letting them run free all over the city, you can always track them down with your bracelet. The WannaFinder is also part of the security system since your group cannot leave without having everyone present.

Upstairs is a lounge area, complete with a bar for sodas, beer and snacks. There are comfortable chairs to relax in, a large screen TV and computers to browse the Internet (Yay! Respite!). There is also a food court downstairs area where you can get pizzas, hotdogs and other snacks. For more dining options, you can also take your whole group out to the Sawgrass Mills mall where there are bigger food courts and then re-enter Wannado City after eating.

Many of the jobs that kids can do in Wannado City are the type that is more "active", jobs that they can role-play and get into character such as reporter, doctor, beauty consultant, model or private investigator, to name just a few.

It would be hard, for example, to role play many office-based careers. I don't really know how they can do "website designer", for example. But maybe in the future a creative person at Wannado City just might be able to bring that career to life with lots of action!

But the goal of the park is to get kids to start getting interested in the world of work, to get them to make decisions on their own, to begin realizing that money is earned by doing something valuable and helpful instead of just having it spit out from a machine on a wall.


The jobs they get to role play in the park may not be what they'll end up doing when they grow up but something somewhere just might put an idea light bulb in their heads.

Check it out. It just might give the kids something to think about in the future. If nothing else, it would be a fun day well spent playing pretend.


View Larger Map

Wannado City
Located at the Sawgrass Mills Mall
12801 West Sunrise Boulevard
Sunrise, FL 33323-4020
(954) 838-7100
For hours and prices go to www.wannadocity.com



Return from Wannado City to Fort Lauderdale Attractions