Splash Adventure at
Quiet Waters Park
When the girls were a bit younger, we would go to Splash Adventure at Quiet Waters Park in
Deerfield Beach
and they would have a blast.
This is a smaller water park with one large play area in the middle with medium- and small-sized slides, wheels, levers, pipes, and water that seems to be gushing from everywhere.
It's great for younger children because the water park's size is manageable and keeping an eye on the little ones gets easier. But even if there are lifeguards all around the pool, make sure that your child is safe all the time!
What's great about this water park and some others in the Fort Lauderdale region is the zero-depth entry where the play area gently slopes down from zero inches of water at the edges to a depth of 18 inches (about 0.46 meters) at the deepest middle portion of the water playground. There are no steps to deal with so it makes it easier to wade in and out of the water.


Because of its smaller size, Splash Adventure do run sessions for 1 hour and 50 minutes during its busiest days. The sessions begin at 9:30 am, 11:30 am, 1:30 pm and 3:30 pm. Bathers are asked to leave the water playground area 10 minutes before each session begins to give the next group of families a chance to enjoy the water play.


The wrist bands have different colors per session so they can tell which session you are (or were) in! If you want to stay longer for more than one session then you just pay another entrance fee.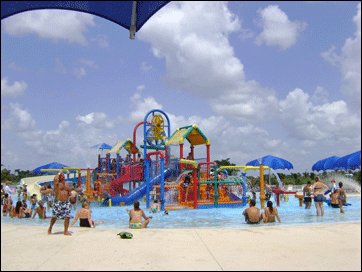 Splash Adventure
At Quiet Waters Park
401 S. Powerline Road
Deerfield Beach, FL 33442
www.broward.org/parks/qwsplash.htm

Fees:
Park entrance
Free Monday – Friday
$1.50 per person Saturday – Sunday


Splash Adventure Water Playground
$4.50 per person, all ages and per session
or all day when there are no sessions


Amenities:

Free parking (the county park has a gate fee on weekends and holidays)
One large water play area
Lifeguards
Restrooms
Concession stand that sells food, snacks and drinks
Large Funbrellas can be rented for larger parties up to 40 people
Make sure to check directly with the water park just in case times, sessions or fees have changed or if more information is needed.

Return from Splash Adventure At Quiet Waters Park to Fort Lauderdale Area Water Parks
Return from Splash Adventure At Quiet Waters Park to Fort Lauderdale Family Fun Homepage