Gently Sail in One of the
River Boat Cruises
Get on one of the river boat cruises in Fort Lauderdale and you'll see why the city is also called the Venice of America. Get a view of the city and its extensive canal system from the New River. You might also get a glimpse of Intracoastal Waterway and even the Atlantic Ocean.


River boat cruises on the New River are very popular and a lot of fun. The boats leave from their docks at regular times every day (or most every day), especially in the busiest tourist months.


Many of them have a captain or one of the crew members narrating the scene passing before you. They also give interesting facts and bits of history and point out several popular landmarks such as the riverfront mansions owned by some of South Florida's rich and famous, houses where famous movies have been filmed, and the cruise ships.


Here's a list of river boat cruises that tour the New River. Remember to look at the duration of the tours so that you can expect how long you'll be gone from land.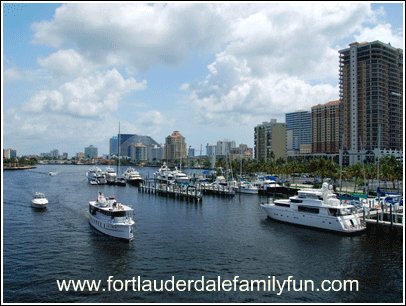 ---
Carrie B Cruises

A paddlewheel boat that starts at the Las Olas Riverwalk near the main entrance and travels east on the New River all the way up to the Swimming Hall of Fame then back again.

Carrie B Cruises
440 N New River Drive East
Fort Lauderdale, FL 33301
(954) 768-9920
www.carriebcruises.com


Open Every Day from November through May
Open from Thursday to Monday from June through October (Closed Tuesdays and Wednesdays)

Tour Duration: 1 hour and 30 minutes
Tour Times: 11:00 AM – 1:00 PM – 3:00 PM


$19.95 Adult
$12.95 Children from 3-12 years old
Free Children under 3 years old
(Taxes are not included)



---
Jungle Queen

The oldest and probably the perhaps the most popular river boat cruise on the New River. They've been around for about 65 years featuring a classic river boat decorated with colorful flags.


This river boat cruise is longer than the others because in addition to the sightseeing tour of the canals, it also stops at a little island they call Jungle Queen Indian Village. Here you'll find an animal exhibit with tropical birds and alligators.


At night, the Jungle Queen transforms into a BBQ ribs, chicken and shrimp dinner cruise. The boat travels up the river to a little island where the all-you-can-eat dinner is served. A comedy show follows the meal.


Jungle Queen
At the Bahia Mar Dock
801 Seabreeze Boulevard,
Fort Lauderdale, FL 33304
Telephone: 954-462-5596
www.junglequeen.com


Open every day
Sightseeing tour duration: 3 hours
Tour times: 9:30 AM and 1:30 PM517 people maximum capacity
$17.50 Adult
$12.75 Children 12 years and under


BBQ & Shrimp Dinner Cruise
All you eat
Duration: 4 hours
Departs at 6:00 PM and gets back at approximately 10:00 PM

$39.95 Adult
$21.75 Children 12 years and under


---
Riverfront Cruises

Starts at the Las Olas Riverfront and travels east on the New River where you can see the mega-homes of people figuring in the Fort Lauderdale who's who list.

Riverfront Cruises300 Southwest 1st Avenue
Fort Lauderdale, FL 33301
(954) 463-3440
www.anticipation.com/riverfront/index.html

Open every day
Tour Duration: 1 hour and 30 minutes
Tour times: 11:00 AM - 12:30 PM - 2:00 PM - 3:30 PM - 5:00 PM

$20.00 Adult
$18.00 Seniors
$10.00 Children 4-16 years old
Free Children under 4 years old


---
Tropical Adventure

This is by far the river boat cruise that costs the least in Fort Lauderdale. From Riverwalk (in front of the Las Olas tower apartments.

Tropical Adventure
333 Las Olas Way
Fort Lauderdale, FL 33301
(954) 577-5100
www.tropicaladventurecruise.com

Tour times 1PM – 4PM – 7PM
$9.95 per person plus tax
150 People max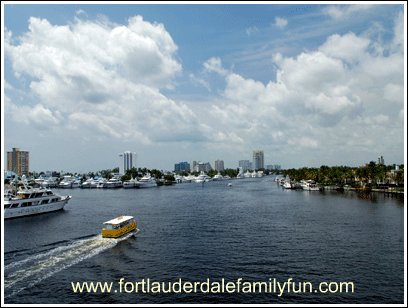 Water Taxi

This is not a river boat cruise but actually a mode of transportation. If you're concentrating on going to different spots along the New River and the Intracoastal, you don't want to take a car and you know that you have the time then this is ideal.

Water Taxi
1850 Southeast 17th Street
Fort Lauderdale, FL 33316
(954) 467-6677
www.watertaxi.com

It's open every day from approximately 10 AM – Midnight (Check their schedules. Not running during certain special events such as the Boat Show or Winterfest).

$48.00 Family Pack (2 adult fares and up to 3 youth or seniors)
$15.00 Adult, valid the whole day for unlimited rides
$11.00 Youth, 4 – 11 years old, valid the whole day for unlimited rides
$11.00 Seniors, 65 years old and over, valid the whole day for unlimited rides
Free Children 3 years old and under
$ 7.00 For tickets bought after 7PM
$180.00 Annual Pass, unlimited rides for one person for one year

Return from River Boat Cruises to Ft Lauderdale Attractions