Pompano Beach Florida



The shore of Pompano Beach Florida is wide and the atmosphere is casual and very much down to earth. Lots of parking spaces are located at the Oceanside parking lot that has coin-operated meters.
There are a lot more people in Pompano Beach Florida. Most likely this is due to the fact that it at a great location. There are plenty of cheap and available parking, plus lots of shops and restaurants nearby on Atlantic Boulevard.
There were families playing football right on the beach, people sunning themselves and reading books and magazines. The mood was more laid back and relaxed. No hardcore, pro-athlete looking types here. Well, maybe not this morning.
I always love looking at lifeguard towers and in Pompano Beach Florida they have this kind of retro feel design that always takes me back to times past that I've only seen in the pages of Life Magazine or vintage posters and photographs.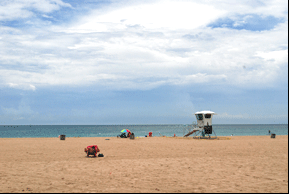 Pompano Beach Florida has an Ocean Rescue building right on the beach, just opposite the Ocean Public Library on Ocean Boulevard. Visions of burly young men and women running up and down the beach, carrying floats, at a ready to save the lives of all vacationers and families were unfortunately not fulfilled today.
Oh well.
But make no mistake – the lifeguards are there. Maybe not like in the made-for-TV series that Hollywood depicts, but the lifeguard houses definitely are manned with people with an ever watchful eye on the swimmers.
As a note, beachgoers should pay attention to the beach rules posted here and in all of the beaches in the Fort Lauderdale area. The City of Pompano website gives 10 tips for safe swimming.

We walked along the water's edge to the 1000-foot long Municipal Fishing Pier to check out the view and get a glimpse of what people have caught for the day. In my opinion, this pier has a lot more wear and tear than the one in Deerfield Beach. However, it does give a great view of the kite surfers at North Ocean Park and the Hillsboro Lighthouse to the north and the high-rise beach hotels and condos of Fort Lauderdale to the south.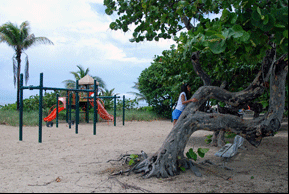 There's a really colorful playground at Pompano Beach with slides and swings for the wee ones. The great part about this playground is that it's surrounded by large and gnarled sea grape trees, a native Florida tree that is resistant to sand and saltwater.
Pompano Beach Florida is perfect for laid-back beach lounging, swimming, playing and sightseeing for families.

POMPANO PUBLIC BEACH
10 Pompano Beach Boulevard,
Pompano Beach Florida 33062
Official Website of Pompano, Florida

Amenities:

On-street parking
Public restrooms
Showers
Picnic tables
Children's playground
Handicapped access
Nearby shopping and restaurants
OCEANSIDE PARKING LOT
109 N. Ocean Boulevard
Pompano Beach Florida 33062
View Larger Map
Back to Beaches
Back to Hompage