Piccadilly Circus
The Piccadilly Circus is coming to Fort Lauderdale! Based in Sarasota, Florida (also known as the circus capital of the world), the circus is touring several cities and making a stop in town to perform for two days.


It follows a European-style circus format, a more traditional kind where all the action takes place in one ring, and very family friendly. The focus is more on the performers and keeping the kids entertained with circus antics. Performances include motorcycle daredevils riding inside the Globe of Doom, contortionists, aerialists, a 250-pound kangaroo and of course, circus clowns!
They also will be featuring an Elephants Extravaganza performance. These same elephants made national headlines recently. In late May of this year, the circus elephants helped out in clearing and lifting debris left by the devastating tornadoes that hit the Joplin, Missouri area where their scheduled performance was cancelled.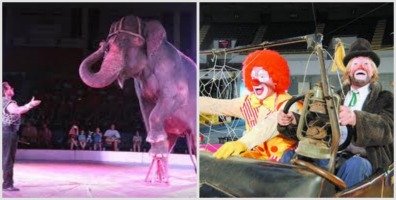 Circus elephant and clowns.

The performances in Fort Lauderdale will be held at the War Memorial Auditorium on July 11 and 12 with two shows each day at 4:30 PM and 7:30 PM.
They have a buy-one-get-one-free admission offer right now if you book your tickets online through their website, www.thefuncircus.com. Make sure to use the coupon code "CIRCUS". No discounts given if you buy your tickets at the gate.
Let's go to the circus!

Circus dates and times:
Monday, July 11, 2011
Tuesday, July 12, 2011
Showtimes: 4:30 PM and 7:30 PM
Show lasts 1 hour, 30 minutes
Buy tickets at: www.thefuncircus.com

War Memorial Auditorium
800 NE 8th Street
Fort Lauderdale, FL 33304




From Piccadilly Circus, go back to Fort Lauderdale Events