Paradise Cove At CB Smith Park
The Paradise Cove water park at CB Smith is the largest water park in the Fort Lauderdale/Broward County area and because of this, it does not need to run on sessions. The entrance fee to get into this water park is also a bit higher.
There are
four different play areas
at the Paradise Cove water park. Depending on whether you're going with toddlers or teenagers, aunts and uncles and grandparents, there's an area geared for everyone.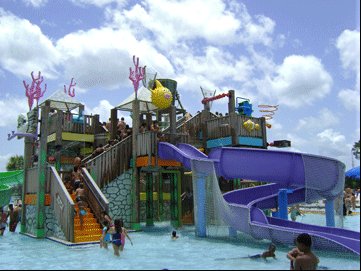 Sharky's Lagoon is by far the most popular hangout at the Paradise Cove water park. This playground has three large colorful slides and there's always a line to go on one of them, but they go fairly fast so that's not really a problem.


There are water sprays inside the playground from treasure chests and pipes, colorful fiberglass sea animals like clown fish, dolphin and sea horses spout water to the children's delight.


Suspended buckets fill up above on the landings that get dumped on unsuspecting passersby below. This is a good way for kids to get naughty and not get in trouble for it! It's all in good fun – no one's in a bad mood, no one gets hurt, the children above and the people below have a great laugh together (I don't know why but it's somehow funnier when a bucketful of water is emptied on an adult)!



Parrot's Point is the tamer water playground fit for the smaller children five years and younger to splash about and go on the smaller slides. This is a calmer environment but still lots of fun with water spilling from tubes, large tropical fruit and a large blue umbrella.



Crazy Creek is a circular ride where you get in a tube and just float along a long water circuit. No-stress drifting is good for you! It's lots of fun, too! Just sit, relax and enjoy the ride.



H-2 Whoa! are two slides that run down 450 feet (137.16 meters). Children do need to be at least 42 inches tall (1.067 meters) to be able to go down the slide, and they must be able to swim.
There's a wooden stairway that leads you high above where you'll get a nice panoramic view of the Paradise Cove water park as well as the C.B. Smith park grounds below.
Near the top of the stairs, the line breaks off in two – one for the green slide and the other for the blue slide. There's a kind of entry pool you step into before you sit on the slide and away you go!
We only went on the green slide (the wait line was long!) where apparently there's a dip in the end. I thought it was quite fast (I was almost laying horizontal on my back as I went down the water slide. One of the girls sat upright the whole time going down and thought that the slide wasn't so fast). The blue slide it seems has a couple of dips in the middle and goes much faster.
You'll plunge into an exit pool at the end of the slides. The exit pool is 36 inches deep (0.914 meters) and most likely your head will go underwater for a second or two after the ride.
Be careful if you're wearing glasses, sunglasses or a hat. Hold on to them! I didn't realize that final plunge into the exit pool would go so fast, and I lost my glasses in the impact and as I went underwater.
Once in the exit pool you do have to get out immediately to avoid incoming sliders. One of the lifeguards dove in to retrieve them for me and I'm very grateful for that. I'm blind as a bat without my glasses!
A day at the Paradise Cove water park is a great way to cool off from the heat of the summer. Have fun splashing!
Paradise Cove Water Park
At CB Smith Park
900 N. Flamingo Road
Pembroke Pines 33028
www.broward.org/parks/cbparadise.htm
Fees:
C. B. Smith Park entrance
Free Monday – Friday
$1.50 per person Saturday – Sunday


Paradise Cove Water Park
$8.50 per person
$5.50 after 3 pm
Free for children 5 and under

Amenities:
Free parking (the county park has a gate fee on weekends and holidays)
Four water play areas
Lifeguards
First Aid area
Restrooms
Whole day fee, no sessions
Two concession places (Sand Dollar and Paradise Grill) that sell food, snacks and drinks
Large Funbrellas can be rented for larger parties up to 30 people.
Lockers – need to leave an ID at the front gate. Fee is $6, cash only for this transaction.
Boat, canoe and kayak rentals are available in the weekends.
Return from Paradise Cove to Fort Lauderdale Area Water Parks