Old Fort Lauderdale
A bit of history of the city

If you're interested in knowing a bit more about the city's history, head on over to Old Fort Lauderdale in the downtown area. This is managed by the Fort Lauderdale History Center.


One of the landmarks in the mile-long winding path of Riverwalk Park, the Old Fort Lauderdale tour includes three buildings:


The New River Inn, the King-Cromartie House and the 1899 Replica Schoolhouse.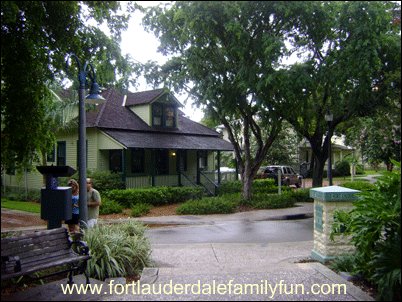 Start at the New River Inn where you can buy your tickets. One ticket fee will get each person a tour in all of the three buildings.


First is a self-guided tour of the New River Inn that was built in 1905. It is the oldest hotel still standing in Fort Lauderdale. It is now a museum where you can see how a guest room might have looked like during that time and also shows exhibits that relates to the history of the city.


Then there's the tour of the King-Cromartie House that was built in 1907. Originally the house was situated by the New River but it was moved to its present location in 1971. This used to be the home of Edwin T. King, the first contractor in the county, and then owned by his eldest daughter, Louise Cromartie.

Last on the tour is a brief visit to the Replica School House. It's a reconstruction of the county's first schoolhouse and you can get a feel of what school looked like back in 1899. Fort Lauderdale's first school teacher was Ivy Stranahan of the Stranahan House fame.


Old Fort Lauderdale
Buy tickets at:
New River Inn
231 Southwest 2nd Avenue,
Fort Lauderdale, FL 33301
www.fortlauderdalehistorycenter.org

Tuesday – Sunday
Open from 12 PM to 4 PM
Tour times: 1 PM, 2 PM and 3 PM
$8 adults, $5 students, free for children 6 and under


Other historic buildings that you might notice in the area but not part of the tour are:

The 1905 Philemon Nathaniel Bryan House with its classical revival architecture. This is now the history center's administrative office.

The 1905 Acetylene Building, which back then housed a gas generator that used to light the New River Inn and the Philemon Bryan house.

And the Hoch Heritage Center, perhaps the most modern of all the buildings, is now a research library and contains the history center's archives and collections.

Return from Old Fort Lauderdale to Ft Lauderdale Attractions