North Ocean Park


We didn't go to North Ocean Park in Pompano Beach, Florida when we originally took our road trip in January. Actually, I didn't even know the existence of it until recently after reading about it in a guidebook (shame on me)!
We went back in March and with the girls this time around to have a Sunday afternoon walk on the beach. I didn't really know what to expect but was hoping to be surprised yet again.
North Ocean Park in Pompano Beach, Florida has it all except for two things – ample parking spots and shops and restaurants that are just a quick walking distance away. Yet it's probably for these two same reasons that I actually find this beach so appealing.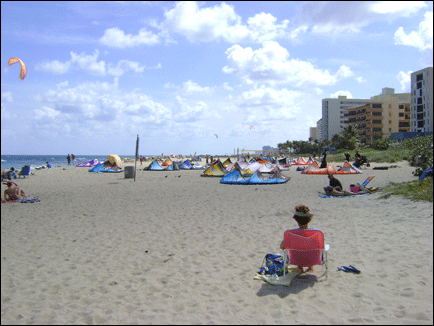 Fewer parking spaces mean fewer people crowding the beach. There were plenty of folks, however, when we went there. Most likely they were vacationers from the apartments and resorts located right on the beach.
No shops and restaurants assure beachgoers to North Ocean Park a calm and simple excursion without blaring music, endless rows of souvenirs and ice-cream cones quickly melting on the sand under the hot Florida sun.
What did surprise me was the number of kite surfers lined along the sand. There were at least 20-30 people with their gear, all ready to go. Maybe it was luck, but maybe there really are this many kite surfers that come here on the weekend.
As you enter the beach at North Ocean Park, there is a sign that said that it was designated as a beach for wind-driven instruments.
We were greeted by a lovely sight of kite surfing athletes, families with infants and toddlers, volleyball players and plenty of young adults sunning themselves or boogie boarding. There were two or three people waiting for a wave high enough to surf on.
There was the Hillsboro Lighthouse again in plain view but farther to the north of us. I've become enamored by it and wanted to walk all the way to the jetty and the inlet to get a closer look. This way, we get to explore the beach as well.
As we walked away from the beach entrance on Northeast 16th Street off of A1A, we gazed at the large and dreamy oceanfront homes just beyond the dunes covered with sea oats.
After maybe another 20 minutes of leisurely walking, we finally reached the jetty. We got a much better view of the lighthouse (it was just in front of us across the inlet!) and we can clearly see the rotating Fresnel lens beaming its light.
The girls immediately jumped on the jetty and maneuvered their way over the large and long blocks of wood and natural rock it was made up of. We watched a large boat enter the inlet, going fast up until the opening then slowing down as it entered the inlet.
There were about three or four people fishing on the rocks at the very end of the jetty. In the water just below them were a couple of snorkelers admiring the fish, and on rock not too far away from the anglers was an old-looking pelican, waiting to get lucky with maybe a scrap of fish or live bait.
After almost an hour of hopping over rocks and wood, admiring the sea and the beautiful, windy day, we started heading back to the beach entrance. The kite surfers and volleyball players had gone, just a few stragglers now packing up their kites and boards.
Along the way back, I found a pathway from the sand that turned to a boardwalk that went over a small lake. The boardwalk led to a narrow sidewalk that bordered a wall of one of the vacation apartment buildings. The sidewalk turned a sharp right angle, sandwiched in between the Canada House and another vacation resort, and led us right back to AIA.
The kids were getting pretty crabby. They've gotten hungry and very thirsty from all the walking. Oops, mom didn't pack any snacks or water. That's ok because this was the perfect occasion to take the girls for a bite to eat at another quirky, road trip find - Dandee Donut Factory on Atlantic Boulevard.

INFORMATION
North Ocean Park
3424 NE 16th Street,
Pompano Beach, Florida 33062