Museum Of Discovery
And Science
Spark the imaginations of young curious minds
From the very first time we set foot in the Museum of Discovery and Science years ago, the girls have absolutely loved every minute of it except for the part when they are told that it's time to go home.
From the Great Gravity clock at the entrance of the Museum of Discovery and Science, life-sized fiberglass models of sharks and other sea creatures hanging from the high ceiling and on the walls, to the aviation and aerospace experience, to the corner dinosaur exhibit upstairs, and the larger than anything IMAX movie theater, this made-for-kids-of-all-ages museum has thrilled my kids for several years now and is sure to thrill other kids as well.
There was a time when they can spend almost every weekend at the Museum of Discovery and Science and never seem to tire of it. (We have museum membership so unlimited entrance to the exhibits is included in this plan).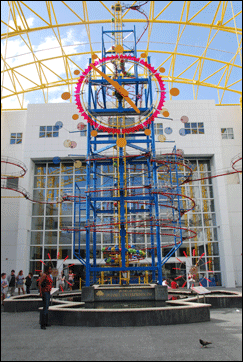 I don't consider the Museum of Discovery and Science as a very large museum, but for children I'm sure they perceive it to be ginormous.
The first time we ever visited when they were about 5 years old. For several visits after that they concentrated mostly on the first floor of the museum where the aquarium and a Florida-themed play area are located.
Now that they're a little older, when we go to the Museum of Discovery and Science, I notice a pattern in their visit.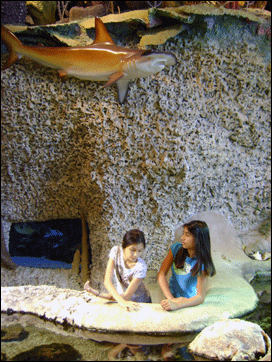 First, we quick walk through the first floor and look at the small animal exhibits. We go through a dark tunnel where the aquariums are. Here there are all kinds of fish that we can find in South Florida waters - nurse sharks, angel fish, and grouper are just few examples. Once I remember seeing lobsters on display.
Then we go up the stairs where there's a permanent exhibit of bats and an area showing Florida ecology. Down some stairs we find creepy, crawly things like snakes (ick, I don't like this part) but also other animals like bunny rabbits (hmm, strange mix).
Further on are more aquariums with fish in them but also a snapping turtle, iguanas, lizards, there's a raccoon in this part of the exhibit as well as box turtles. In glass cases near here are even grosser, more crawling things like tarantulas and centipedes (I feel queasy just thinking and writing about it but the kids are so endlessly curious about them).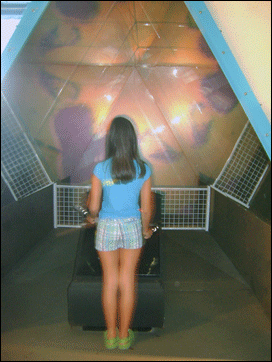 We then end the quick tour of the ground floor with open aquariums of more turtles, alligators (can't touch these obviously!), starfish and sea urchins.
Next, we go up the escalator and land right in front of the Runways to Rockets exhibit. It gets pretty noisy here so consider yourself warned! The whole south wing is dedicated to space and air travel.
You can compare how much you weigh in different planets; feel what it's like controlling a jumbo jet with a flight simulator or blast off into space. The kids can climb into a real plane's cockpit and learn how wind affects flight.

Running towards the northern side of the second floor is the special exhibit area that changes themes every few months or so. A few of our favorites so far have been about frogs (real live different species frogs from all over the world were on display in glass aquariums), the Climate Change Show – with performing robot sheep (!), and an exhibit about music.
These changing exhibits always have an interactive and hands-on component to them that make it fun and interesting even for the adults.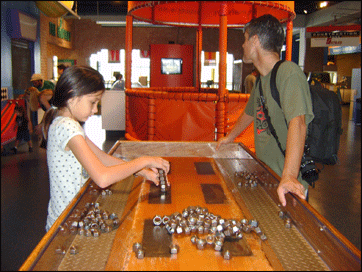 Make sure to check the museum website for current exhibits.On the same floor are the permanent exhibits. My personal favorite is the Mineral Rocks Exhibit. The gleaming crystals and other rocks are so pretty and amazing to look at.
The hands-on science exhibits include puzzles, the Human Hurricane, magnets, pulleys, an interactive virtual volleyball game and lots of other educational activities.
There are smaller exhibits such as the Egyptian exhibit showing a mummy and some artifacts. Just beyond this is the quieter dinosaur exhibit showing fossilized eggs and a lifelike scene with dinosaurs.

One area they don't often go to but probably only because it's easily forgotten with all the activity going on inside is a typical South Florida garden located at the back of the museum (accessible from the inside).
It's a perfect example of a low-water, low-maintenance garden that more people in the area could adopt to save more of our natural resources. The best thing about this garden is that the plants and flowers that attract butterflies!
The kids can spend the whole day at the Museum of Discovery and Science and still want to come back tomorrow. But an afternoon is usually a good stretch of time to go here.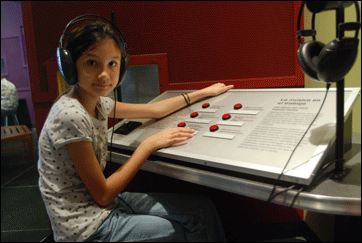 The Museum of Discovery and Science is ideal I think for children from ages 5 to say about 12 or so. But even younger children will really enjoy the first floor of the museum with the aquariums and the play area and older children and adults will have a great time learning more about science or watching an IMAX film.
Information
Open every single day of the year (including holidays) the museum is located right in Fort Lauderdale, across from the New River and kitty corner from the Broward Center of the Performing Arts.
Museum of Discovery And Science/AutoNation IMAX 3D Theater
401 SW 2nd Street,
Fort Lauderdale, FL 33312
Tel: 954-467-6637
www.mods.org

Parking
Cheaper street parking with SmartPark meters are usually available but sometimes hard to come by especially in weekend afternoons but the municipal parking lot that services the museum and the Broward Center of the Performing Arts (kitty corner from the Science museum) is a convenient, albeit more expensive, parking alternative.
Where To Eat Nearby