MSC Cruises
Great value cruises with a distinct Italian style.


Based in Venice, Italy, MSC Cruises proudly displays its sophisticated Italian heritage in all of its ships. It mostly cruises in Europe, popular with cruise travelers of all ages and also with families.



It is the cruise line division of the Mediterranean Shipping Company (MSC), a leading, privately-owned container shipping line which is based in Geneva, Switzerland.
Claiming to be one of the fastest growing cruise lines in the industry today, it will have a total of 12 ships by the year 2012 and departing from over 20 ports across the globe.
All of it ships have Italian names that evoke art, music and creativity. Its current fleet includes:
Mistral Class: MSC Armonia, MSC Sinfonia, MSC Lirica and MSC Opera
Musica Class: MSC Musica, MSC Orchestra, MSC Poesia, MSC Magnifica
Fantasia Class: MSC Fantasia, MSC Splendia
Classic: MSC Melody
Future ship: MSC Divina (coming 2012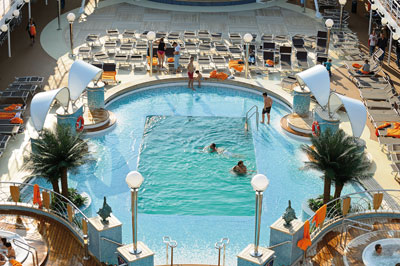 Photo: MSC Cruises


Why it's unique
What's unique about MSC Cruises is that it offers a European-style cruise with emphasis on its Italian heritage. Italian cuisine is obviously one of its highlights but other specialties are also offered (a well-acclaimed sushi bar, for example). It also has a Balinese themed spa for those who want to be pampered in luxury.


Where it goes
It operates year round in Northern Europe and seasonally in the Mediterranean, South America, North America, the Caribbean, Abu Dhabi and the Emirates, South Africa and transatlantic voyages.
From Fort Lauderdale, the ship Poesia embarks from Port Everglades during the winter months and spends its winters happily soaking up the warmth and sun of Florida, the Caribbean and South America.


Good choice for families
MSC Cruises advertises a program where kids 11 years old and under cruise for free (traveling with two paying adults), which could be advantageous for families.
Although its ships don't really have the theme park-like amenities some other mainstream cruises have, it may be a good choice for families who want a calmer atmosphere and more face time.
It does, however, have clubs and programs that are age appropriate from pre-school aged kids to teenagers that should keep them busy and their parents happy. The Mini Club is geared for kids 3 to 8 years old, the Junior Club is for the pre-teen set 9 to 12 years old and the Teenager's Club is for our favorite adolescents 13 to 17 years old.
Some family-oriented activities include tennis and mini-golf, kiddie pools and indoor and/or outdoor play areas available in some of its ships. There are also video games, dance clubs and other activities that are sure to entertain the youngest guests.
They currently have a Caribbean Family Plan where if you book a stateroom, you can bet a second stateroom for 50% off (obviously for Caribbean itineraries only). And don't forget about the kids cruise free program!


More information on MSC Cruises
The following are its official websites that may interest travelers, giving loads of information about its fleet, itineraries, its VIP club and even their charity work.

MSC Main – Its main website lets you choose your country and displays the website in your preferred language.
MSC USA – Its website for the United States.
MSC Yacht Club – An exclusive club within the MSC Fantasia, MSC Splendida and MSC Divina ships.
MSC Aurea Spa - Lists services and offerings in its Bali-themed spa.
MSC Web TV - Features short videos about the company, its fleet, destinations and more.
MSC UNICEF - Information on the cruise line's humanitarian efforts with UNICEF.


From MSC Cruises, go back to Cruises From Fort Lauderdale

Explore a few Ft Lauderdale attractions

Get sand in your shoes at one of Fort Lauderdale's top beaches

Go back to Fort Lauderdale Family Fun Homepage