Lauderdale By The Sea Florida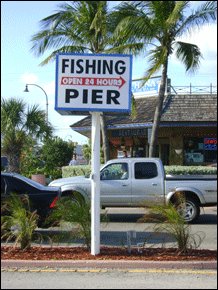 I've never much thought of Lauderdale By The Sea Florida until now. I've always considered it as a sleepy retirement town just north of Fort Lauderdale and really that was about it. Boy, was I wrong.
A closer look reveals a little gem of a beach town and a great beach. Lots of people, young and old alike, come here not just for the sand and surf but also for the excellent beachfront restaurants and shops located near the intersection of AIA and Commercial Boulevard.
As we head further south towards Fort Lauderdale, the crowds seem to get larger, more traffic. Parking, however, is still very much available in Lauderdale by the Sea Florida – lots of coin-operated meters just one block from the beach on El Mar Drive (bring lots of coins!) and there is a small municipal parking lot nearby. I'm sure it can get scarcer in the weekends or during holidays.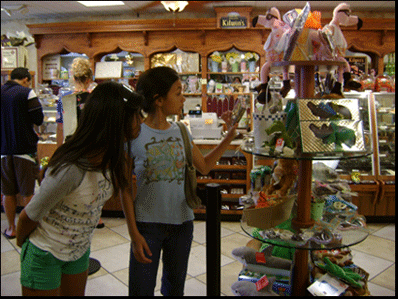 First stop in this adventure is Kilwin's (link: http://www.kilwins.com/stores/display_city.phtml?city=Lauderdale+by+the+Sea&state=FL)! It doesn't matter how old you are, you will feel a rush of childlike awe once you step into this shoppe.
Known for their handmade ice-cream (from well-loved, tried and true flavors like Chocolate and Lemon Sorbetto to more creative, think-outside-of-the-box hits like Cake Batter, Superman and Blue Moon) and other to-die-for confections, we could spend hours gawking at seemingly endless rows of chocolate and candies and never, never make up our minds.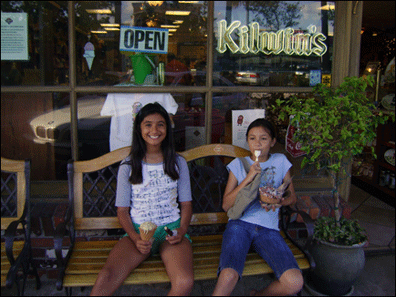 I finally settled for a chocolate-dipped pretzel stick. Inès got a waffle cone with a scoop of Cake Batter and Nina, a cup full of Chocolate Chip Cookie Dough ice-cream. We sat on the wooden benches just outside and enjoyed our treats.


After we finished, we headed towards the beach and Anglin's Pier, open 24-hours a day. We paid the dollar entrance fee and the girls raced to where the anglers were. The difference I noticed with this pier is that there were lots more young children trying their hand at fishing with their families.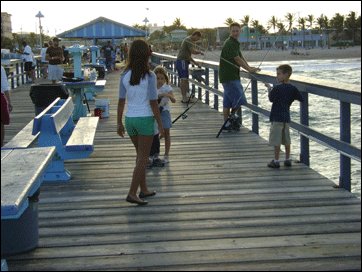 The girls spotted a turtle surface over the waves just for a moment next to pier. We waited several minutes for it to come up again but alas, no luck this time. We stayed for about an hour on the pier and the girls thoroughly enjoyed themselves watching people fish, checking out what people were using for bait, goofing around with the coin-operated viewers (need two quarters for these) and running up and down the wooden planks.


The City of Lauderdale By The Sea Florida is very proud to advertise itself as offering some of the best diving this part of town. Divers can access from the shore a living coral reef just a hundred yards away.
There are also 75 sunken vessels that make up an artificial reef – also accessible from the shore. Other underwater attractions for snorkelers and divers include The Snorkel Trail (link: http://www.lauderdalebythesea-fl.gov/muni/snorkel.htm)and the shipwrecked SS Copenhagen (link) http://www.lauderdalebythesea-fl.gov/muni/sscopenhagen.htm.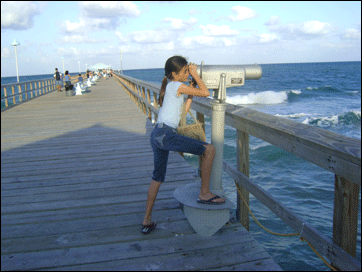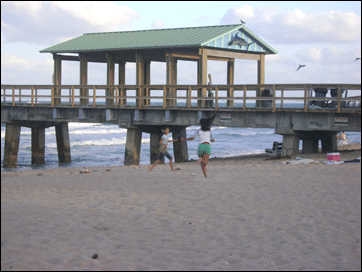 I learn something new every day, some good, some bad. But Lauderdale By The Sea Florida is one discovery that is definitely very good.
INFORMATION:Lauderdale By The Sea BeachMain entrance at the Intersection of AIA (Ocean Drive) and Commercial BoulevardLauderdale By The Sea Florida 33062/33308Amenities: Public parking, fishing pier, seaside restaurants, and specialty shops nearby.City of Lauderdale By The Sea Florida Website: http://www.lauderdalebythesea-fl.gov/