IMAX Fort Lauderdale
See movies on a giant-sized screen at the Science Museum
The IMAX Fort Lauderdale is located inside the Museum of Discovery and Science. Watching a film at the IMAX theater is one of the highlights of a visit at the museum.
IMAX stands for Image MAXimum and it truly is a unique movie experience. The IMAX Fort Lauderdale has a 60 feet (18.28 meters) by 80 feet (24.38 meters) screen and shows films in very large formats.

Its immense size makes you feel like you're actually inside the movie. Instead of people sitting right in front of you, the rows of seats gradually slope upward (almost like sitting on bleachers but much steeper and more comfortable). This gives everyone in the theater full view of the screen. The surround sound is incredible and adds to the experience of feeling part of the film.

I can still remember the very first IMAX film we saw with my kids who were about five years old at that time. It was called Galapagos, a three-dimensional documentary film presented by the Smithsonian Institution.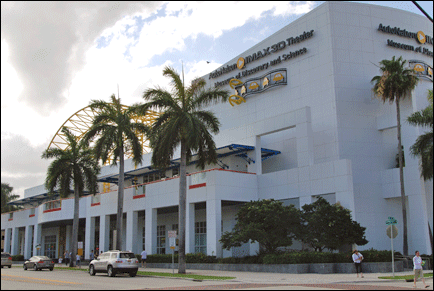 The movie followed Dr. Carole Baldwin, a marine biologist who studies the animals and environment of the island made famous by Darwin. The 3D glasses back then were more like heavy helmets that covered the tops of our heads, unlike the lightweight ones that look like sunglasses that they use now.

I can still remember watching them trying to catch fish with their hands, grasping at the empty space in front of them. Giant tortoises slowly crawled just inches away from their face, close enough to touch and pet. I myself was so impressed by this film that we ended up seeing it three times!

Another memorable IMAX film they've seen is Coral Reef Adventure by world-renowned underwater film photographers and filmmakers Howard and Michele Hall. Although not a 3D film, the two stars of the documentary were present when we saw it at the museum.

We also got a copy of the companion book to the film entitled Living Mirrors written by Jack Stephens. We still have that book today and the girls have pored through its pages hundreds of times over and over.

These films and many others have sparked my children's love and respect for the sea. They've learned valuable lessons about the environment and nature in general and having a lot of fun watching the films at the same time.

It seems that many of the films, especially the nature ones, shown at the IMAX theater hope to promote a deep fervor for the environment and the need to protect and preserve it for the future.

The IMAX Fort Lauderdale doesn't just show nature and science-related subjects. They have also shown blockbuster movies such as the Harry Potter films, documentaries relating to a place such as Egypt or China, and rock-and-roll documentaries and concerts featuring the indomitable U2 (Rattle And Hum) and the ageless Rolling Stones (Shine A Light).

The films mentioned above have come and gone. Make sure to check current film listings and times to find out what's being shown now. Grab some popcorn and a drink and enjoy the show!

AutoNation IMAX 3D Theater
at the Museum of Discovery And Science
401 SW 2nd Street
Fort Lauderdale, FL 33312
Tel): 954-467-6637
www.mods.org

IMAX Showtimes
Tel): 954-463-4629
www.mods.org/imax

Return From IMAX Theater to Fort Lauderdale Area Museums


Return from this IMAX Fort Lauderdale page to Fort Lauderdale Family Fun Homepage