Great Family Fun At
Hollywood Beach Florida
Hollywood Beach Florida is great for families! From the quiet beauty of the north area beach to the active pace of the Hollywood Broadwalk, this place is so much fun for families.




Leave the ritzy and glitzy behind because over here the atmosphere is very, very flip-flop, shorts and t-shirt casual.


If you're looking for some peaceful spots and at the same time something a bit more active and busier to keep the kids and yourself entertained AND a place where you can feel relaxed and let your hair down, then Hollywood Beach Florida is definitely the place to go.


It looks like Hollywood Beach can be divided into three different areas:


Hollywood Beach Florida
North Area


Off of A1A are what I can describe as fingers of streets that lead you even closer to the ocean.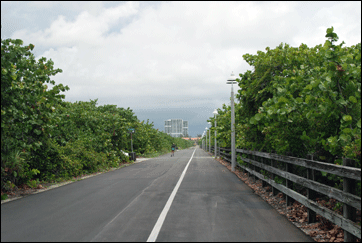 The streets between Balboa and Franklin lead to North Surf Road. Since traffic on this road can only go one way going north, generally there aren't a lot of cars and usually they go fairly slow. But keep a watchful eye on the kids nonetheless.


You'll see plenty of people of all ages biking or skating on this road. Bring your person-powered wheels and join the fun!


Small and modest budget motels and some private residences can be found here. Wooden boardwalks from North Surf Road give access to the beautiful and quiet beach.


The streets between Franklin and Forest lead to North Broadwalk, also a one-way road going north (North Surf Road becomes North Broadwalk here). This part remains largely undeveloped. You'll still be able to experience a bit of the natural South Florida in this area with the dense growth of native trees and bushes.


You'll also find the Dog Beach of Hollywood here between Pershing and Custer Streets. The Dog Beach is open on Fridays, Saturdays and Sundays all year round. From November to March it's open from 3:00 pm to 7:00 pm and from April to October it's open from 5:00 pm to 9:00 pm. You do need to pay a pass to bring poochie along to enjoy the beach with you. Go to their website for complete details on prices and rules (yes, you need a pooper scooper).


Again, wooden boardwalks lead directly to Hollywood Beach. Be careful though because there are a few oceanfront residences here. Make sure you're not stepping into private property.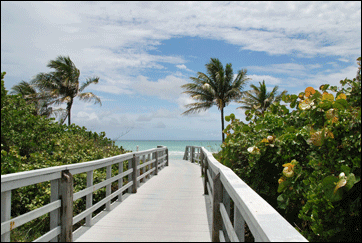 Go biking or rollerblading on these roads. If you're very, very ambitious you can bike, rollerblade or even walk from Balboa Street all the way to the end of South Broadwalk at Magnolia Terrace. That's going to be A LOT of exercise!


Tip: If you enter from Forest Street just before North Beach Park and head north, you'll be able to drive the entire length of North Broadwalk/North Surf Road all the way to Balboa Street.

Amenities:


On-street meter street parking
Blue Wave-certified beach
Lifeguards
Showers
Budget motels
---


Hollywood Beach Florida
North Beach Park


The entrance of this Broward county 56-acre park is located on Sheridan and A1A. There's no entrance fee during the week but a small fee per person or per car is charged on the weekends. You do need to pay if you want to park in the lot closest to the beach.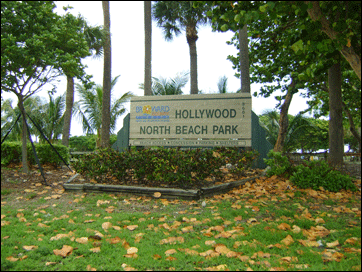 There is a wooden observation tower when you get into this park. Expect the young kids to yell stop and want to run up the stairs to get a bird's eye view of the sea and the surrounding area.


Inside the park you can enjoy the beach (of course!) plus picnicking and hanging out with the family. There's also the Turtle Café near the park's entrance where you can buy snacks and drinks.


The other sliver of North Beach Park is located across A1A. Little parks, bearing the names of different endangered or critically endangered sea turtle species – Leatherback, Green, Kemps Ridley, and Hawksbill – are part of North Beach Park and are located along the Intracoastal Waterway.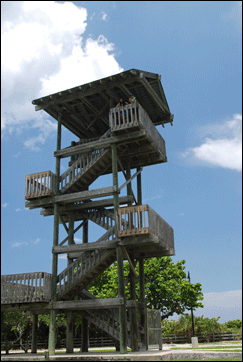 These little parks can be a bit noisier than the ocean side park because they're right next to A1A. Still, you can enjoy a barbecue here and a close view of the boats passing by on the Intracoastal.


Just beyond these little parks, across from the Intracoastal Waterway, are West Lake Park and the Anne Kolb Nature Center.


Amenities:


Ocean side parking lot – fee required
On-street meter parking
60-foot wooden observation tower
Blue Wave-certified beach
Lifeguards
Picnic tables
Grills
Turtle Café
Showers
Public restrooms
Hollywood North Beach Park
3601 N. Ocean Drive
Hollywood, FL 33019
Office: 954-926-2444
www.broward.org/Parks/HollywoodNorthBeachPark
---
Hollywood Beach Florida
Hollywood Beach Broadwalk


The Hollywood Beach Broadwalk, I'm sure, was created just with families in mind. There are always lots of people here. You can bike, rollerblade, use other foot-pedaled wheels to roll you along or use your own feet to run and walk on this famous pedestrian pathway.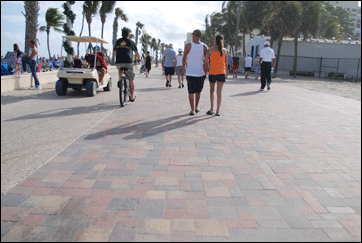 The great thing about the Hollywood Beach Broadwalk is that the restaurants and cafés, the promenade for pedestrians and the beach are all in one place. Just find a place to park your car and you can enjoy all of these without having to worry about crossing a busy road to get from one to the next.


Have a picnic at the beach with the dazzling wide ocean before you, or choose one of the family-friendly restaurants that line the Broadwalk. Whether you're craving a New York style pizza, a falafel sandwich or a California roll, you're sure to find it all here. Sip some Turkish coffee from a tiny espresso cup or treat the kids and yourself to some yummy all-American ice cream cones!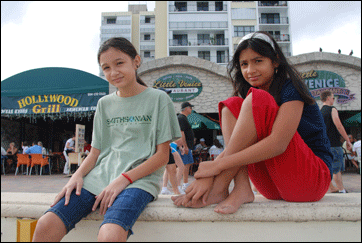 As you may have guessed, this stretch of beach is like a melting pot of people from all over the world. Just go on the walkway or sit a few minutes in a café and you'll hear Quebec French, Russian, different versions of Spanish from all over Latin America and that's just to name a few languages. And of course, English is spoken here!


Plenty of small mom and pop shops sell souvenirs, beach attire, beach toys, jewelry, groceries and a whole host of other items. Browse a few shops for postcards to send to friends and family back home and perhaps get a special something just for you.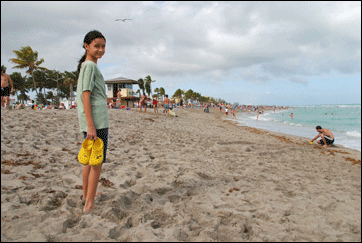 The atmosphere is very friendly and unpretentious. Yes, you may spot a colorful character or two but they are generally harmless. Some people think that the Broadwalk is more for the oldies but goodies crowd but there are people of all ages who come and enjoy the scene, be around other people and savor the moment.


Resistant to too much rapid development and change, Hollywood Beach Broadwalk today still has that old South Florida feel when life was a lot simpler. The side streets are narrow and many of the quaint motels and hotels around here are small and family-owned. However, there are also larger hotels located on the Broadwalk. The street lamps along the promenade are reproductions of the originals from when the Broadwalk was first built in 1923.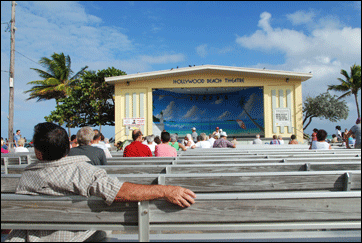 Events and festivities are planned for many week nights and weekends. Head over to the open-air Hollywood Beach Theater at Johnson Street and listen to some music and dance along with the crowd. Admire some classic pre-1978 cars once a month, melt your stress with some jazz or tap your feet to a band playing Latin tunes. Click here for a list of events on the Broadwalk and other Hollywood locations with the time and date of each.


Going to the Hollywood Beach Broadwalk is a real comfort. You can just come as you are! You don't have to worry if you're wearing the latest fashion or know if you're using the right fork or not for that salad. No one will notice. Everyone's busy having fun so just relax and enjoy!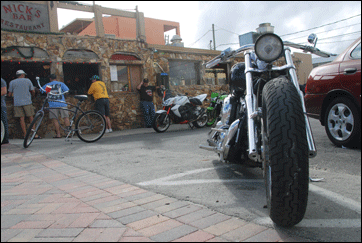 Amenities:


On-street meter parking
30-foot wide, car-free pedestrian promenade
Blue Wave-certified beach
Lifeguards
Showers
Ocean view restaurants and bars along the promenade
Souvenir shops
Mini markets
Bike rentals at the beach
Regularly scheduled events
Budget and mid-priced hotels and motels
Various beach activities like volleyball, paddle ball, tai chi and yoga
Picnic tables in some areas
Hollywood Beach Broadwalk
The quiet North Broadwalk begins at Franklin Street and ends at Tyler Street.
The more active South Broadwalk then continues on beginning just before Harrison Street and ends at Jefferson Street right next to the Atlantic Ocean.
A main entrance can be found near Hollywood Beach Boulevard and A1A.
Return from Hollywood Beach Florida to Fort Lauderdale Beaches page.
Return from Hollywood Beach Florida to Fort Lauderdale Family Fun Homepage.