Flamingo Gardens
A beautiful and lush old-Florida style botanical garden
West of Fort Lauderdale is the Flamingo Gardens in the town of Davie. A contrast from the city just to the east, here you're getting closer and closer towards the Everglades and you can almost feel it. The roads are wider and there's a lot more space. There are still residential houses and office buildings but you'll be able to spot a few cows or horses here and there from surrounding small ranches.


Visiting the Flamingo Gardens is like stepping into a huge and well-maintained South Florida backyard, complete with an aviary, exotic tropical plants and even an orange grove.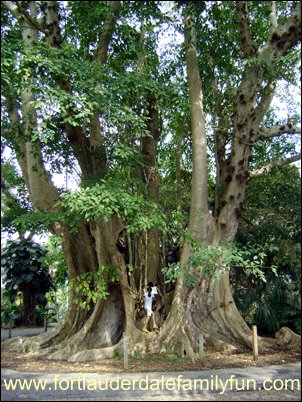 In fact, when you think of it, it used to be the backyard and gardens of the park's founders, Floyd L. and Jane Wray who, in 1933, built a house in the grounds that still stands to this day and is now a museum.

Every child should grow up surrounded by plenty of trees. Huge trees, especially the ones with ancient branches, are like ideal grandparents – rooted firmly to the ground and forever patient.

Here, there are definitely lots of trees, and they are very awesome to look at. Spend half a day or more romping the grounds, take a tram tour or watch a presentation by one of the park's workers on the different animals in the grounds and the ways they are being protected.

Flamingo Gardens is first and foremost a botanical garden. The name might confuse people because it's not a zoo although you will find native animals here such as the Florida panther and those famous alligators.

One of the best spots at the Gardens is the Flamingo Pond. Here you'll find about 50 or so flamingos wading in their own private bath. Just wait a bit and you might get to hear them squawk loudly, their long-necked heads swaying left to right.

Here's a short video of the flamingos making a racket. Fun to watch!

Another highlight is the tour of the Wray House. Small and modest looking, it's a great example of an old home in South Florida, next to banyan trees. The house also has pictures, furniture and other artifacts from that time period.

Don't forget the free-flight aviary (don't look up with your mouth open at the same time!), the Florida Wildlife Sanctuary and the Butterfly and Hummingbird gardens.

There is a lot of walking involved at Flamingo Gardens, which is ideal for the kids if you want to go outside but want to see something completely different from the beach.

The Flamingo Café is open for snacks and drinks next to the pond. There is also the Tropical Marketplace where you can get really good smoothies.

Flamingo Gardens
Botanical Collections and Everglades Wildlife Sanctuary
3750 South Flamingo Road
Davie, FL 33330
954-473-2955
www.flamingogardens.org


Open every day except for the dates below.
Closed on Mondays from June 1 – October 31
Open for Labor Day (first Monday in September)
Closed on Thanksgiving Day (fourth Thursday in November)
Closed on Christmas Day


Entrance Fees:
$18 Adults
$10 Children (4 – 11 years old)
Free Children (3 years old and younger)


Tram Tours:
$4 Adults
$3 Children (4 – 11 years old)
Free Children (3 years old and younger)


We try our best to find out the most current information for you, but there's always a possibility that this can change at any time. To sure, call the park to double check prices and opening hours.


Return from Flamingo Gardens to Ft Lauderdale Attractions