Dania Beach Florida
Sweet and simple family fun
Dania Beach Florida can be best expressed in three words: sweet and simple.


A smaller beach compared to others in the Fort Lauderdale area, but it certainly delivers big in family beach fun.


The Frank Adler "Tootie's" Park on the south end of the parking lot is a small, green spot with barbeque grills, picnic tables and a children's playground.


The chickee huts at the park and also on the beach, are fashioned after shelters invented by Seminole Indians. The word "chickee" in the Seminole language means "house".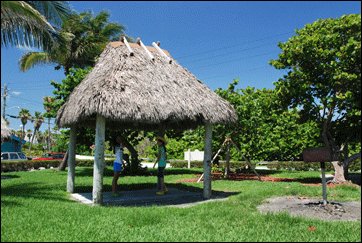 At the center of this park is the Dania Bar and Grill. You can order American classics such as hamburgers, pizzas, their "Chicago-style" hotdogs and fries, sodas and beer.


On the north side of the beach, you'll find the Beach Watch restaurant and Dania's Fishing Pier. The restaurant has an extraordinary view of the Atlantic Ocean. Watch the ships go by as you enjoy your seafood meal!


Dania's Fishing Pier is open 24 hours a day, every day, giving you plenty of opportunity for your next big catch. You can even bring it in the restaurant and have them cook and serve it for you if you like!


And of course, there's the beach. This is what you're here for, right? Simply peaceful, refreshing, relaxing – the antidote to stress. Just the way a beach should be.

Amenities:
On-street meter parking lot
Picnic tables
Chickee huts
Children's playground
Showers
Public restrooms
Lifeguards
Two restaurants
24-hour fishing pier
Dania Beach Ocean Park
100 North Beach Road
Dania, Florida 33004
954-924-3696
www.ci.dania-beach.fl.us


Dania Beach Bar & Grill
65 N. Beach Road,
Dania Beach Florida 33004
954-923-4148
www.daniabeachgrill.com


Beach Watch Restaurant and
Dania Beach Fishing Pier
300 N. Beach Road
Dania Beach Florida 33004
954-929-4887
www.beach-watch.com


Return from Dania Beach Florida Back To Fort Lauderdale Beaches


Return from Dania Beach Florida Back To Homepage