Butterfly World
A Day in a Garden of Dreams
It's hard not to smile and widen your eyes as you enter the free-flight aviaries at Butterfly World. Not only is it astonishing to see so many butterflies flit and flutter all over the place, it's also the profusion of so many perfectly beautiful tropical flowering plants and orchids that are positively impressive.
You can hear soothing classical music outside and as you enter the building and gardens, already creating a relaxing atmosphere.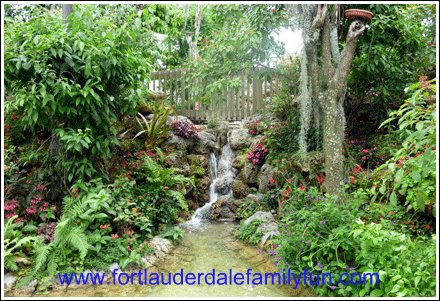 What's also astonishing is that this is all born from one man's passion and dream. Robert Boender has been a butterfly fanatic since he was a child. But it was only after finishing his working career that he really plunged himself to creating his life's work.


Actually, he started breeding butterflies for universities and zoos. But then he started hearing about the butterfly houses in the United Kingdom. He then met Clive Farrell who originally came up with the idea of these butterfly houses. They struck a partnership that transformed and emerged into today's Butterfly World.


What a dream, and what an accomplishment! It is not a mega theme park complex filled with rides but a calm and serene walk to enjoy nature's creations. Here, you'd want to walk slowly, stop a lot, sit on a bench, and just watch.


The garden is organized in a winding path that guides you from aviary to outside walkways, to the various gardens and the central lake, to the insect museum and bug zoo and back again to where you started. A couple of cafes and a butterfly-themed gift shop are also along this path.

As you walk in the aviaries, don't be surprised if a butterfly or two lands on your shoulder or hand (or anywhere on you for that matter). At the Jewels of the Sky aviary, I was surprised to all of a sudden see a tiny female Amazilia Emerald hummingbird flying just in front of me and landing on a branch just inches away.


Hummingbirds are the smallest birds in the animal kingdom. They are so delicate and colorful and fascinating to watch. You can barely see their wings when they are in flight, beating so fast that all you see is a blur.


There are lots more birds in this aviary like finches, fluffy Chinese Painted quails and bright yellow canaries. The other highlight of Butterfly World is the Lorikeet Encounter. My daughter spent a lot of time in this part. She could have stayed there the whole day if I let her with the flamboyantly colored birds hanging from her forearms.

This is a favorite among kids because for about $1 each you can buy tiny cups of juice to feed the birds. As soon as they have a juice cup, several lorikeets will fly on their arms and shoulders to get their fruity treat.


The plants and flowers in the gardens also play leading roles in Butterfly World. They are grown not only for their beauty but they provide food for the butterflies. Locals who live nearby can buy flowering plants to start their own butterfly garden in their own backyards.


Located inside Tradewinds Park South, a Broward County public park, you do need to first pay a small entrance fee to get into the park (not much, approximately $1.50 per person). There are signs that direct you to Butterfly World.


Admission to the gardens can prove to be a bit pricey – currently $24.95 per adult and $19.95 per child (3-11 years old) – but it is, I believe, well worth it.


Butterfly World
Inside Tradewinds Park - South
3600 W. Sample Road,
Coconut Creek, FL 33073
Tel: 954-977-4400
www.butterflyworld.com


Open every day of the year
Monday – Saturday 9 AM to 5 PM
Sunday 11 AM to 5 PM
Last admission at 4 PM every day


Have You Been To Butterfly World?
Give us your review! How did your visit go? Have you been to another butterfly house someplace else? We'd love to hear from you.
Return from Butterfly World to Ft Lauderdale Attractions