Air Boat Rides

Let's Go See the Everglades
Air boat rides can be an exciting and fun way to see part of the Everglades and get in touch with the natural side of Fort Lauderdale.
It's amazing to think that after just a short drive from the city, we are next to the wild beauty of the largest and only subtropical wetlands in the United States.

The Everglades is actually an extremely wide river that starts at Lake Okeechobee, fed by the Kissimmee Springs, and ever so slowly moves southward all the way down to Florida Bay. What we see in the Fort Lauderdale area is just a tiny part of vast and complex interdependent ecosystems in the southern portion of the state.

In our tiny patch of the Everglades, you can whiz through the sawgrass marshes and see South Florida wildlife such as alligators, birds and reptiles.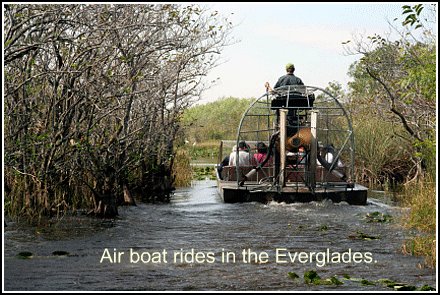 Airboats are flat-bottomed boats with very large propellers on the back inside a metal cage. This powers the boat to move forward. Since the all the mechanical and electrical parts of the boat are above and not under the water, airboats are ideal when navigating in shallow waters like marshes and swamps.
The rides can be as short as half an hour or could go on for several hours for specialty rides or special tours, but most are about an hour long. Just long enough to get a feel for the wild nature of South Florida but not too long to feel like you've left civilization completely behind!
There are plenty of airboat tour companies in the vicinity of Fort Lauderdale and Miami. A real treat for the whole family would be to spend a day at the Everglades National Park (one of this huge park's entrances is at Homestead, close to Miami), which is about 70 miles or an hour and a half south of Fort Lauderdale.
Feel the wind in your hair, the sun on your face and see the wild beauty of the Everglades around you. Go on an air boat ride!